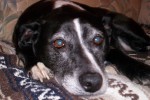 I should be ashamed of myself that I haven't written about Moxie sooner.
Moxie is our girl. She came to our house when she was about 8 weeks old. Nobody knows where she came from, but she was found on a tobacco farm near the Kentucky River. From the start, she's been very passive. She didn't play as a puppy, she just slept.
<>We think she's a border collie/pitbull mix. When I got her, I started training her using Barbara Woodhouse's books. Moxie doesn't lick, doesn't jump up on people, and barks very rarely. She adapted very well. For the last year and a half, she goes to work with me almost every day. Everyone at work loves her. One of the ladies even taught her to 'shake' in order to get cookies. I never thought she'd learn a trick. She always acted insulted when I tried to teach her.
Now that she's approaching her 8th birthday, she doesn't play frisbee anymore. She can't run fast enough to catch the frisbee before it hits the ground. We've even had to cut back on the tennis ball, because I think she's getting arthritis. She hobbles around for a good day after a game of fetch.